4-Butylresorcinol CAS 18979-61-8
Purity(HPLC):≥99.0%
Purity(GC):≥99.5%
Appearance: White powder
Packaging: 1kg/bag, 25kg per drum
Sample: available
related documents:
COA of 4-Butylresorcinol
TDS of 4-Butylresorcinol
Description
4-Butylresorcinol
4-Butylresorcinol Details
Chemical Name: 4-Butylresorcinol
CAS No.: 18979-61-8
Molecular Formula: C10H14O2
Molecular Weight: 166.22
Appearance: White powder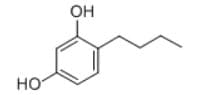 4-Butylresorcinol Properties
Test Item
Technical Specification
Appearance
White to off white powder
Odour
Characteristic
Solubility
Soluble in methanol and in methylene Chloride, Slightly soluble in water
Identification by IR
Match with standard
Water(by KF)
Not more than 1.0%
Melting point
About 50℃
Sulphated ash
Not more than 0.5%
Related substances
Resorcinol
NMT 0.2%
2,4-Dihydroxybutyrophenone
NMT 0.5%
Any other impurity
NMT 1.0%
Total of impurities
NMT 1.0%
Purity(GC)
Not less than 99.0%
Residual solvents
Hexane
NMT 100ppm
Methanol
NMT 500ppm
Ethyl acetate
NMT 5000PPM
Usage
It is an antioxidant that is considered effective in influencing the formation of pigmentation, and therefore able to lighten the skin. It is a synthetic compound that is partially derived from natural lightening compounds found in scotch pine bark, and is considered a reliable whitening agent.
According to studies when directly compared to B-Arbutin, Phenylethyl Resorcinol was shown to be over one hundred times as effective at lightening hair, and when tested in vivo on skin that had not been exposed to light, 0.5% concentrations of Phenylethyl Resorcinol proved to be more effective than 1.0% kojic acid.
Packaging
Packing: 1kg/bag, 25kg per drum
Storage
Store in cool & dry place. Keep away from strong light and heat