Beeswax CAS 8012-89-3
Appearance: yellow or light brown
Sample: Available
related documents:
COA of Beeswax
TDS of Beeswax
MSDS of Beeswax
Description
Beeswax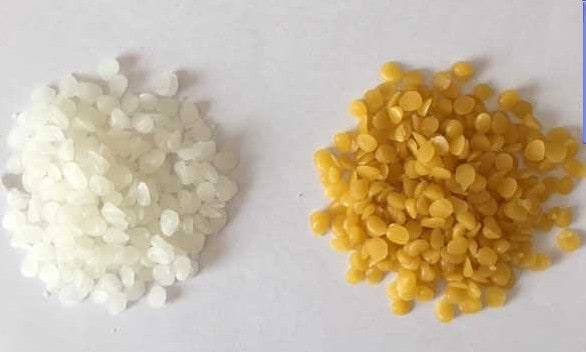 Quick Details
Chemical Name: Beeswax
Other name: BEE WAX
CAS No.: 8012-89-3
Appearance: Yellow or white solid Colorless or light yellow transparency liquid
Typical Properties
| | |
| --- | --- |
| Item | Quality Standards |
| Appearance | yellow or light brown pieces or plates with a fine-grained, matt and non-crystalline fracture; when warmed in the hand they become soft and malleable. It has a faint odour, characteristic of honey. It is tasteless and does not stick to the teeth. |
| Solubility | Solubility: practically insoluble in water, partially soluble inhot ethanol (90 per cent V/V) and completely soluble in fatty and essential oils. |
| Degree melting point(℃) | 0.954-0.964 |
| Acid value (KOH mg/g) | 17-22 |
| Saponification value (KOHmg/g) | 87-102 |
| Ester value (KOH mg/g) | 70~80 |
| Hydrocarbon value | ≤18 |
| Mercury | ≤1ppm |
| Ceresin paraffins and certain other waxes | Complies with NK2020 |
| Glycerol and other polyols(m/m) | ≤0.5 |
| Carnauba wax | Not discover |

Usage
(1) Cosmetics
Adhesiveness, permeability, emulsifying property, smoothness is very good, widely used in the production of creams, creams, lipsticks, head oils, eyebrow pencils, eye shadows, etc.
(2) Food
Beeswax has excellent effects on moldability, detachment, film formation and waterproofing, moisture resistance, oxidation resistance and deterioration. Therefore, it is used as a barbecue oil in the food industry and households, as a wax for cooking utensils, and as a processing method for Chinese and Western snacks and confectionery. Use of release agent
(3) Pharmaceutical industry
Widely used as ointment base, Chinese patent medicine package, etc.
(4) Other industries
Beeswax is also widely used in the power industry, electronics industry, printing industry, leather industry, ink, oil industry, paper industry and candle industry.
Packaging 
25kgs drum or bag or as requested.
Storage
Notes: Keep stored in cool, dry conditions in well sealed containers.