Description
Escin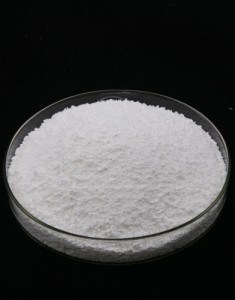 Escin Quick Details
Chemical Name: Escin
CAS No.:6805-41-0
Chemical structure: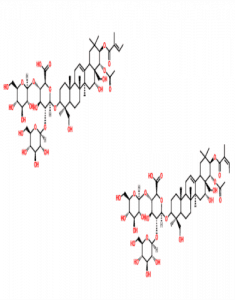 Molecular formula:C55H86O24
EINECS No.: 229-880-6
Synonyms:Horse Chestnut Extract; BETA-AESCIN;ESCIN;Chestnuts extract; aescusan;amorphousaescin;
Appearance: White powder
Escin Typical Properties
| | |
| --- | --- |
| ITEM | STANDARD |
| Sieve analysis | 100% pass 80 mesh |
| Loss on Drying | ≤5.0% |
| Assay | 97-103.0% |
| PH | 3~5 |
| Rotation | -24.0– -30.0 |
| Extract Solvent | Alcohol & Water |
| Heavy Metal | <10ppm |
| As | <2ppm |
| Residual Solvents | Eur.Pharm. |
| Total Plate Count | <1000cfu/g |
| Yeast & Moulds | <100cfu/g |
| E.Coli | Negative |
| Salmonella | Negative |
Escin Application
Escin plant source from horse chestnut and horse chestnut extract, promotes gelatin synthesis, repairs damaged skin, can effectively moisturize rich flavonoids, has natural strong anti-aging and anti-wrinkle effect, can improve some eye skin The blood circulates and can also eliminate cellulite, which has some effect on dark circles and bags under the eyes.
Escin has anti-inflammatory and swelling-inhibiting active substances, which can protect arterial blood vessels and structural integrity, improve venous function, and at the same time take into account multiple effects of anti-inflammatory and anti-oxidation;
Escinhas the effects of inhibiting collagenase, hyaluronidase, B-glucuronidase and elastase (which will catalyze the destruction of the integrity of the venous structure and the exudation of the capillaries);
In the external formulation,Escincan promote blood circulation, promote wound healing, anti-edema, anti-inflammatory and anti-exudation and vascular protection (to dark circles, redness, anti-wrinkle, repair).
Escinis the most important inflammatory component in the horse chestnut fruit. It can effectively improve the integrity of the vascular wall by filling small gaps in the venules and capillaries and tiny visible gaps. Therefore, the aescin helps repair the capillary. Blood vessels.
Escin Packaging and Shipping 
1kg/Bag
Escin Storage
Store in sealed containers at cool & dry place. Protect from light, moisture and pest infestation. Shelf life is 24 months.