Description
Hexadecyl 2-ethylhexanoate
Hexadecyl 2-ethylhexanoate Quick Details
Chemical Name: Hexadecyl 2-ethylhexanoate
CAS No.: 59130-69-7
Molecular Formula: C24H48O2
EINECS No.: 261-619-1
Synonyms: Cetyl 2-ethylhexanoate; HEXANOIC ACID,2-ETHYL-,HEXADECYL ESTER; EINECS 261-619-1; Perceline oil; Cetyl octanoate;
Appearance: Colorless transparent liquid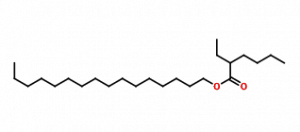 Hexadecyl 2-ethylhexanoate Typical Properties
| | |
| --- | --- |
| ITEM | STANDARD |
| Appearance | Colorless transparent liquid |
| Chroma(APHA) | 0-30 |
| Acid value(mgKOH/g) | 0-0.1 |
| Saponification value(mgKOH/g) | 146-158 |
| Iodine value(g/100g) | 0-1 |
Hexadecyl 2-ethylhexanoate Application
It can be used in creams, lotions, pressed powders, cleansing oils, sunscreens, conditioners, etc.
Hexadecyl 2-ethylhexanoate Performance advantage
Hexadecyl 2-ethylhexanoate is a colorless, transparent, low-viscosity ester with a light, refreshing skin feel. It is also a branched oil ester with high stability and excellent spreadability, replacing natural squalane.
Dry, high stability, excellent spreadability, can replace natural squalane.
Low viscosity, light skin feel and excellent pigment dispersion.
It is a general-purpose emollient with good compatibility for skin care and hair care products.
Excellent moisturizing effect on the skin.
Hexadecyl 2-ethylhexanoate Recommended dosage
1%-20%
Hexadecyl 2-ethylhexanoate Packaging and Shipping
25kg/Drum, 180kg/Drum, 14.4MT/1*20'FCL
Hexadecyl 2-ethylhexanoate Storage
Stored in cool dry ventilated place away from fire, heat, light, acids and food materials.
Shelf life is 2 years.