Description
Magnesium Myristate CAS No.:4086-70-8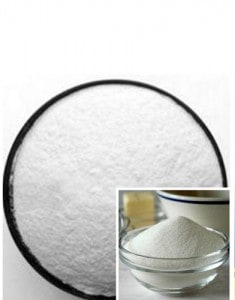 Magnesium myristate Quick Details
Chemical Name:Magnesium Myristate
CAS No.:4086-70-8
Molecular formula:
[CH
3
(CH
2
)
12
COO]
2
Mg
Chemical structure:

EINECS No.:223-817-6
MW:479.03
Properties: Magnesium myristate is fine white crystal powder;greasy to touch. Soluble in water,hot ethanol and hot water.Slightly soluble in organic solvents like cold ethanol and ether. Magnesium myristate have excellent lubrication,dispersion and emulsifying ability.
Magnesium myristate Typical Properties
Item
Specification
Appearance
white fine powder
loss on drying, %
≤ 6.0
magnesium oxide content, %
8.2-8.9
melting point, ℃
132-138
free acid, %
≤3
iodine value
≤1
Particle Size

(Pass 200mesh)%

≥99
Heavy metal

(Colorimetry) %

≤0.0020
Lead %
≤0.0010
As %
≤0.0005
Magnesium myristate Application
Magnesium myristate is used as emulsifying agent, lubricating agent, surface active agent, dispersing agent in personal-care supply field.
Magnesium myristate Packaging and Shipping 
Paper bag,net wt. 20kg/bag,or follow customer's packing instructions.