Description
Menthyl lactate
Menthyl lactate Details
Chemical Name: Menthyl lactate
CAS No.: 17162-29-7
Molecular Formula: C13H24O3
Molecular Weight: 228.33
Appearance: White crystalline powder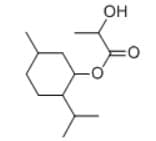 Menthyl lactate Properties
| | | |
| --- | --- | --- |
| Item | Specification | Result |
| Apearance | White Crysstalline Powder | Complies |
| Purity | ≥98% | 99.21% |
| Frangrance | Faint, chamomile or tobacco aroma | Complies |
| Melting point | ≥40.0℃ | 43.0℃ |
| PH(KOH) | ≤2.0mg/g | 0.6mg/g |
| Rotation of a20 / | ≤-78(Ethanol) | Complies |
Menthyl lactate Usage
Mainly used in cosmetic products, drug preparation, dental products and candy and other products;
Widely used in cosmetics, skin care products, food, beverage, toothpaste, medicine, tobacco and other industries.
Menthyl lactate Packaging and Shipping
Packing: 1kg/bag, 25kg/drum
Menthyl lactate Storage
Store in cool dry place. Keep away from strong light and heat.