Description
Poly(L-glutamate)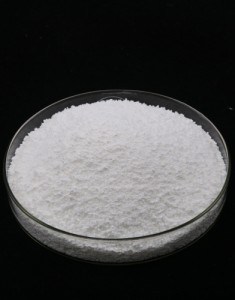 Poly(L-glutamate) Quick Details
Chemical Name: Poly(L-glutamate)
Another Name: POLY-L-GLUTAMIC ACID 2'000-15'000
CAS No.: 25513-46-6
Chemical structure: 
EINECS No.: 200-293-7
Synonyms: Poly-L-glutamicacid; γ-poly(L-glutamic acid) macromolecule; POLY-L-GLUTAMIC ACID 15'000-50'000 SODIUM SALT; l-glutamicacid,homopolymer; glutamicacidpolymer;  l-gamma-polyglutamicacid;
Appearance:White powder
Poly(L-glutamate) Typical Properties
| | |
| --- | --- |
| ITEM | STANDARD |
| Contact (γ-PGA) | ≥92% (by HPLC) |
| Loss on drying | ≤8% |
| Molecular wt(Da) | ≥700000 |
| Heavy metals(Pb) | ≤10mg/kg |
| Transmittance(5g/L, AQ, 400nm) | ≥95% |
| pH(10g/L, AQ, 25℃) | 5.0-7.5 |
| Total plate count | ≤100 CFU/g |
Poly(L-glutamate) application areas
Poly(L-glutamate) is a homogenous polypeptide formed by polymerization of a glutamic acid monomer by an amide bond. It is water-soluble, biodegradable and non-toxic. It can be widely used in the food industry, cosmetics, health care, water treatment, wastewater treatment, sanitary products, medical and other fields. For example, it can be used as a thickener, cryoprotectant, and slower. Release agents, drug carriers, bioadhesives, humectants, biodegradable fibers, superabsorbent resins, bioflocculants and heavy metal ion absorbents, etc.
Poly(L-glutamate) Usage
1. This product is non-toxic to the human body and the environment, biodegradable, eco-friendly, water-soluble, can get odorless clean and transparent solution, easy to cross-link to form a hydrogel with excellent performance in the later stage, can be made into sodium, calcium, magnesium, hydrogen type.
2. This product can moisturize, whiten, inhibit bacteria and improve skin health.
Poly(L-glutamate) Packaging and Shipping 
1kg/Bag; 25kg/Fiber Drum
Poly(L-glutamate) Storage
Store in sealed containers at cool & dry place. Protect from light, moisture and pest infestation. shelf life is24 months.