Polylysine CAS 25104-18-1
Chemical Name: POLYLYSINE
Assay: ≥95%
Appearance: White to creamy yellow powder
Capacity: 30tons/year
Packing: 25KG/drum
Sample: Available
Description
POLYLYSINE
Zhonglan POLYLYSINE Details
Chemical Name:POLYLYSINE
CAS No.:25104-18-1
Molecular Formula:C18H36N6O3X2
Molecular Weight:384.521
Molecular Structure: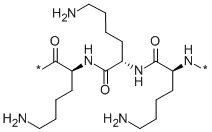 Appearance: White Powder
Zhonglan POLYLYSINE 99% Typical Properties
Item
Specifications
Results
Appearance
White to creamy yellow powder
Milky white powder
Content (dry product),w/%
≥95. 0%
99. 39%
Loss on drying, w/%
≤8.0
3. 55
Residue on ignition, w/%
≥2. 0
0. 53
 pH (lOg/L solution)
2. 5~5. 5
4.97
Lead (Pb) /(mg/kg)
≤2.0
0. 16
The total arsenic (As) /(mg/kg)
≤3.0
0. 18
Conclusion
The results conforms as Enterprise Standards

Zhonglan POLYLYSINE Packaging and Shipping
Packing: 25KG/drum     According to the actual needs of customers
Zhonglan POLYLYSINE Usage
1. Food preservative
2. Used as a preservative for cosmetics
3. Medicine as a carrier for some medicines
4.Polylysine as a super absorbent polymer can also be used in the production of sanitary napkins, baby diapers or other industries
Zhonglan POLYLYSINE  Storage
Store in dry and cool place, keep away from sunshine and rain.