Description
Retinyl Retinoate
Retinyl Retinoate Quick Details
Chemical Name: Retinyl Retinoate
CAS No.: 15498-86-9
Molecular formula: C40H56O2
Synonyms: Nano Liposomal Retinyl Retinoate;Retinyl Retinoate, r-Retinoate
Appearance: Yellow powder or crystal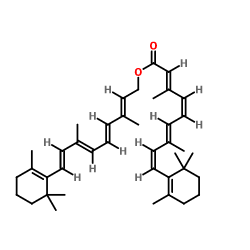 Retinyl Retinoate Typical Properties
| | |
| --- | --- |
| ITEM | STANDARD |
| Product Name | Retinyl Retinoate |
| Appearance | Yellow powder or crystal |
| Identify | The NMR atlas should be consistent with that of the control sample |
| Solubility | Insoluble in water |
| Ignition residue | ≤0.1% |
| Heavy metal | ≤20ppm |
| Content | ≥95.0% |
Retinyl Retinoate Application
Promote the skin surface renewal speed and make the skin surface more compact and orderly;
Promote the dermis to accelerate the production of collagen and inhibit the destruction of collagen by MMP;
Increase the content of mucopolysaccharides (such as hyaluronic acid, etc.) in the epidermis to make the skin more water-retaining;
Promote the metabolism of the stratum corneum, make the stratum corneum tighter and restore the barrier function.
Retinyl Retinoate Packaging and Shipping 
100g/bag
Retinyl Retinoate Storage
It should be protected from moisture, water, fire and pollution. Shelf life is 24 months.