Description
Snap-8
Snap-8 Quick Details
Chemical Name: Snap-8
Other name: Acetyl octapeptide-3
CAS No.: 868844-74-0
Molecular Formula:C41H70N16O16S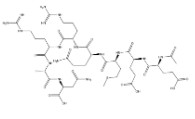 Snap-8 Properties
| | |
| --- | --- |
| Item | Specification |
| Specific rotation | +39.5 to +41.5° |
| State of solution(transmittance) | Clear 98.0% min. |
| Chloride | 0.020% max. |
| Ammonium [NH4] | 0.02% max. |
| Sulfate[SO4] | 0.020% max |
| Iron[Fe] | 10ppm max. |
| Heavy metals [Pb] | 10ppm max |
| Arsenic[As2O3] | 1ppm max |
| Other amino acids | Chromatographically not detectable |
| Loss on drying | 0.20% max. |
| Residue on ignition[sulfated] | 0.10% max. |
| Assay | 98.0% min |
Snap-8 Usage
Acetyl hexapeptide-3 works by inhibiting the release of neurotransmitters. When applied to the skin, it relaxes facial tension, which leads to the reduction in facial lines and wrinkles when used as directed. This resembles the effect of a Botox injection, which reduces facial tension and movement by literally paralyzing facial muscles.
Snap-8 Packaging and Shipping 
5 grams/Al-foil bag
10 grams/Al-foil bag
100 grams/Al-foil bag
1kg/Al-foil bag
Snap-8 Storage
Be stored in cool,dry,and ventilated storage,free from heat or sunlight and free from toxic and harmful foods. Be protected with pall on delivery, keep free from rain moisture, toxic, and harmful goods.