Description
Sorbitan monopalmitate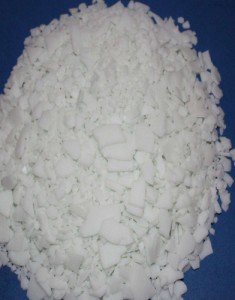 Sorbitan monopalmitate Quick Details
Chemical Name: Sorbitan monopalmitate
Another Name: Span 40
CAS No.: 26266-57-9
Chemical structure: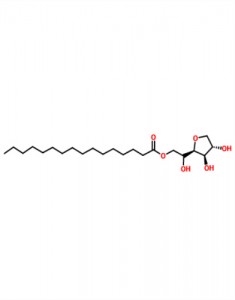 MF: C22H42O6
EINECS: 247-568-8
Synonyms: Sorbitan monopalnitate; Span #40 (=Sorbitan monopalmitate); ARLACEL 40; SORBITAN PALMITATE; SORBITAN MONOPALMITATE; Sorbitan Monopalmitate (Span-40); SORBITANE MONOPALMITATE; SPAN(TM) 40
Appearance:Milky white flake
Sorbitan monopalmitate Typical Properties
| | |
| --- | --- |
| ITEM | STANDARD |
| Acid Value | 8.0KOH mg/g Max |
| Saponification value | 140-150KOH mg/g |
| Hydroxyl value | 255-290KOH mg/g |
| Moisture | 1.5%Max |
| HLB Value | 6.7  |
What is sorbitan monopalmitate ?
1. Span is a synthetic nonionic emulsifier made by partial esterification of sorbitol or sorbitol with food grade palmitic acid. It is a light creamy yellow to brownish yellow beaded, flaky or hard waxy granule. It has a soft oily smell and caramel sweetness.
2. The medicinal products are commonly used such as Span 20, Span 40, Span 60, Span 65, Span 80, Span 85 and so on.
3. The driver is non-toxic and non-irritating. Mostly white or yellow oily liquid, or milky white waxy solid, with special smell and soft taste. Do not dissolve in water, but generally can be dispersed in water or hot water, soluble in solvents such as ether, liquid paraffin or fatty oil.
4. Span 40 has good heat resistance and hydrolysis stability. As a lipophilic nonionic surfactant, Span is widely used in pharmaceuticals, foods and cosmetics.
5. The emulsification characteristics of Span 40 are mainly characterized by the nature of O/W emulsifier with an HLB value of 6.7. The spoon can be used for juice drinks, vegetable protein drinks, to prevent fat from floating up to form oil ring.
Main application of sorbitan monopalmitate
1. Sorbitol monopalmitate can be used as an emulsifier in the preparation of creams, emulsions and ointments, and can be used to prepare stable water-in-oil emulsions or microemulsions when used alone;
2. If combined with different proportions of hydrophilic emulsifier Tween, a variety of water-in-oil, oil-in-water emulsions or creams can be prepared;
3. This product can also be used as a solubilizer, wetting agent, dispersing agent, suspending agent, etc. It can be used for the preparation of inhalants, intramuscular injections, oral liquids, ophthalmic preparations, topical preparations and vaginal preparations.
Sorbitan monopalmitate Packaging and Shipping 
25kg/Bag.
Sorbitan monopalmitate Storage
This product should be stored in a cool, ventilated, dry place to avoid sun and rain.